Chinese Chicken Salad
Chinese Chicken Salad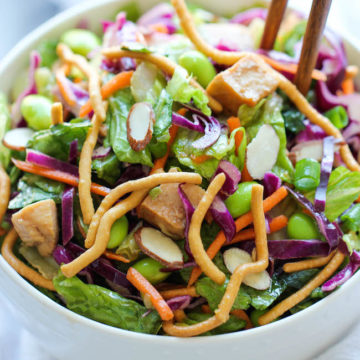 Ingredients:
2 boneless, skinless chicken breasts
2 tablespoons soy sauce
1 teaspoon sesame oil
1/4 teaspoon white pepper
4 cups chopped romaine lettuce
1 cup shredded red cabbage
1/3 cup grated carrots
1/4 cup shelled edamame
1 green onion, thinly sliced
1/4 cup chow mein noodles, for serving
1/4 cup sliced almonds, for serving
For the sesame vinaigrette
1/4 cup plus 2 tablespoons rice wine vinegar
1 clove garlic, pressed
1 tablespoon sesame oil
1 tablespoon sugar
1 teaspoon freshly grated ginger
1 teaspoon soy sauce
Directions:
Preheat oven to 350 degrees F.
To make the vinaigrette, whisk together rice wine vinegar, garlic, sesame oil, sugar, ginger and soy sauce in a small bowl; set aside.
In a gallon size Ziploc bag or large bowl, combine chicken, soy sauce, sesame oil and white pepper; marinate for at least 30 minutes, turning the bag occasionally.
Add chicken and marinade to a baking dish. Place into oven and bake until cooked through and juices run clear, about 13-15 minutes. Let cool before dicing into bite-size pieces.
To assemble the salad, place romaine lettuce in a large bowl; top with red cabbage, carrots, edamame, green onion and chicken. Pour sesame vinaigrette on top of the salad and gently toss to combine.
Serve immediately, topped with chow mein noodles and almonds, if desired.